This quick, easy and inexpensive hummingbird nectar recipe is a safe alternative to store bought hummingbird food.
One of my favorite things to do in the morning is sit outside on the back porch and wait for my hummingbird friends to visit. Other than the colorful flowers I like to plant in my yard (zinnia, butterfly bushes, salvia) I like to have a couple hummingbird feeders spaced out throughout the yard to attract the hummers.
I used to buy store-bought hummingbird nectar and then I found out how easy it was to make my own and have never gone back to the MUCH more expensive store varieties again.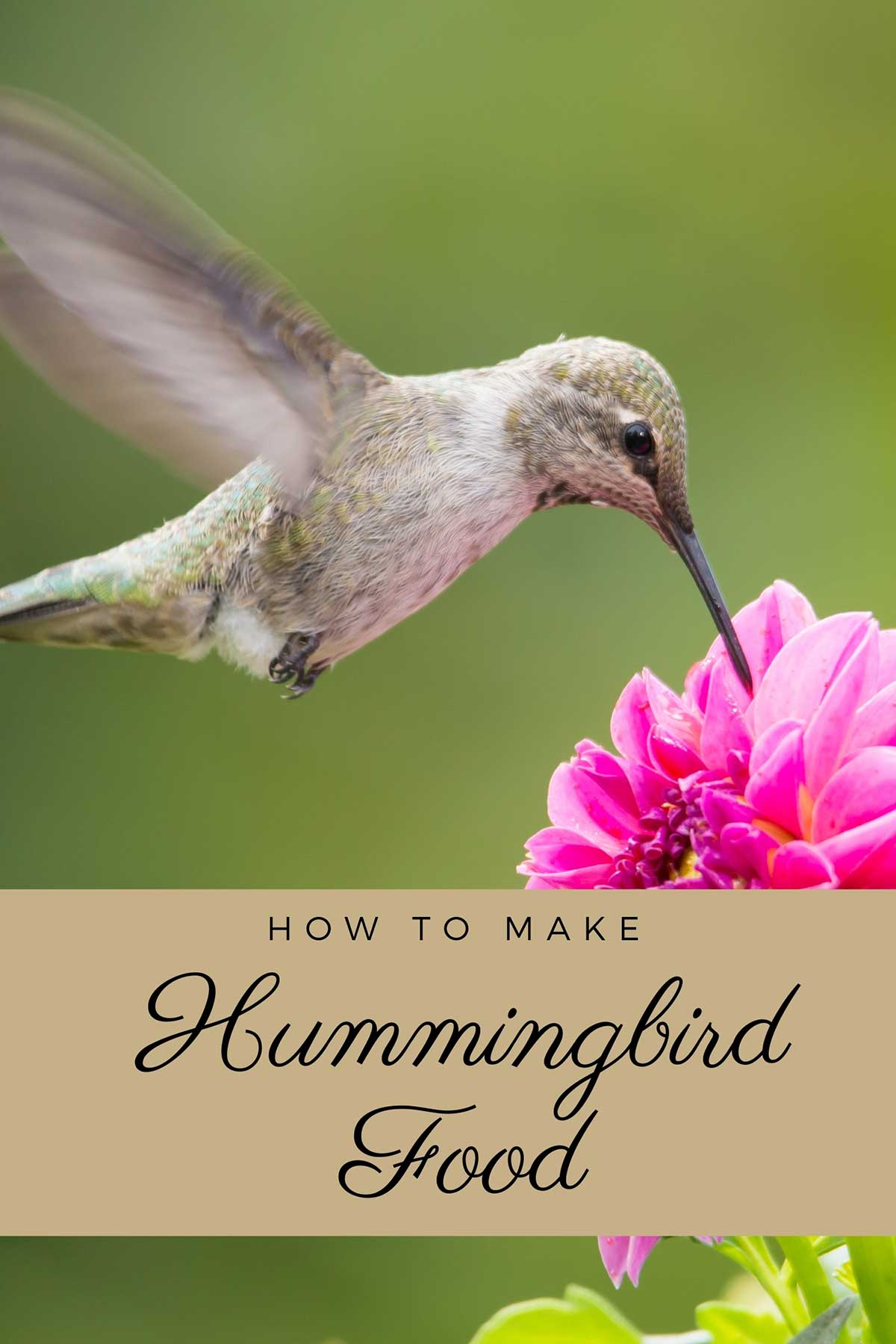 Ingredients For Hummingbird Food
OK, get out your legal pad now to write all these ingredients down:
Yep, that's it. This recipe is not the least bit complicated, just regular table sugar and tap water, and takes less than 5 minutes to make.
How To Make Hummingbird Food
Boil your water, add the sugar to your water and stir until dissolved.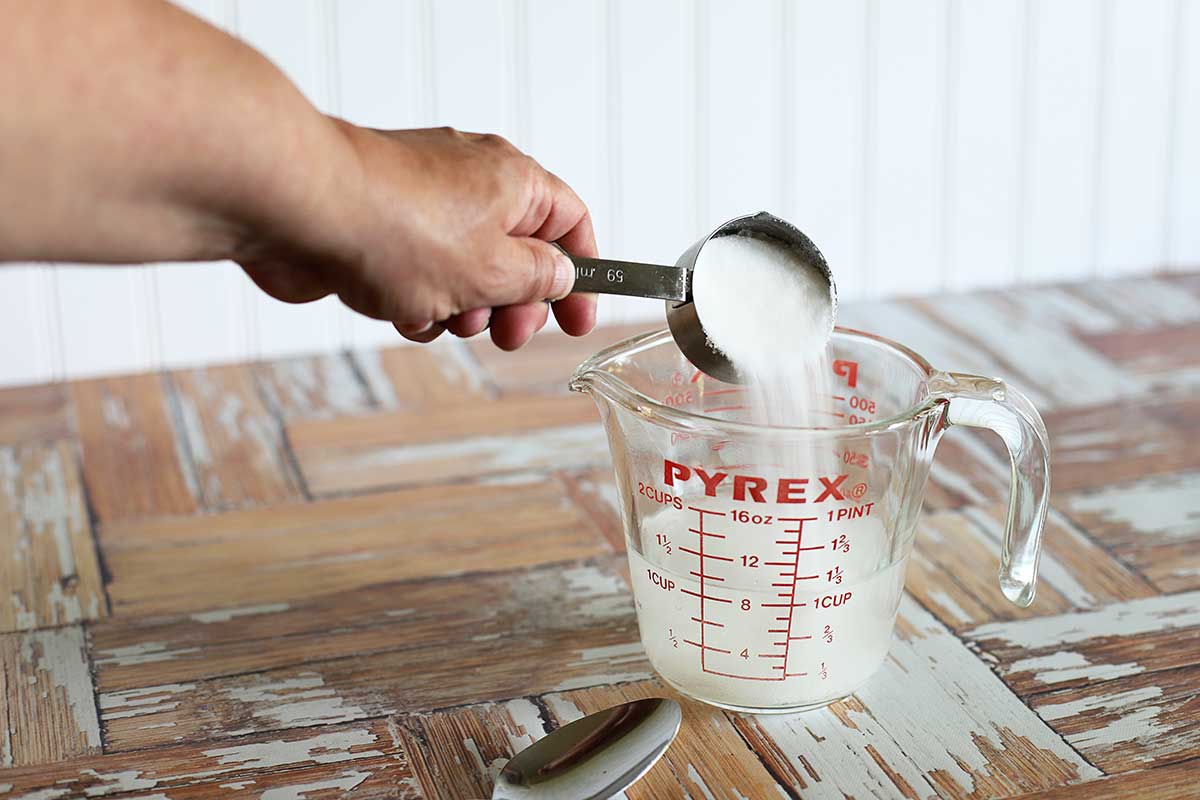 Allow the sugar water mixture to cool to room temperature and then fill your feeders.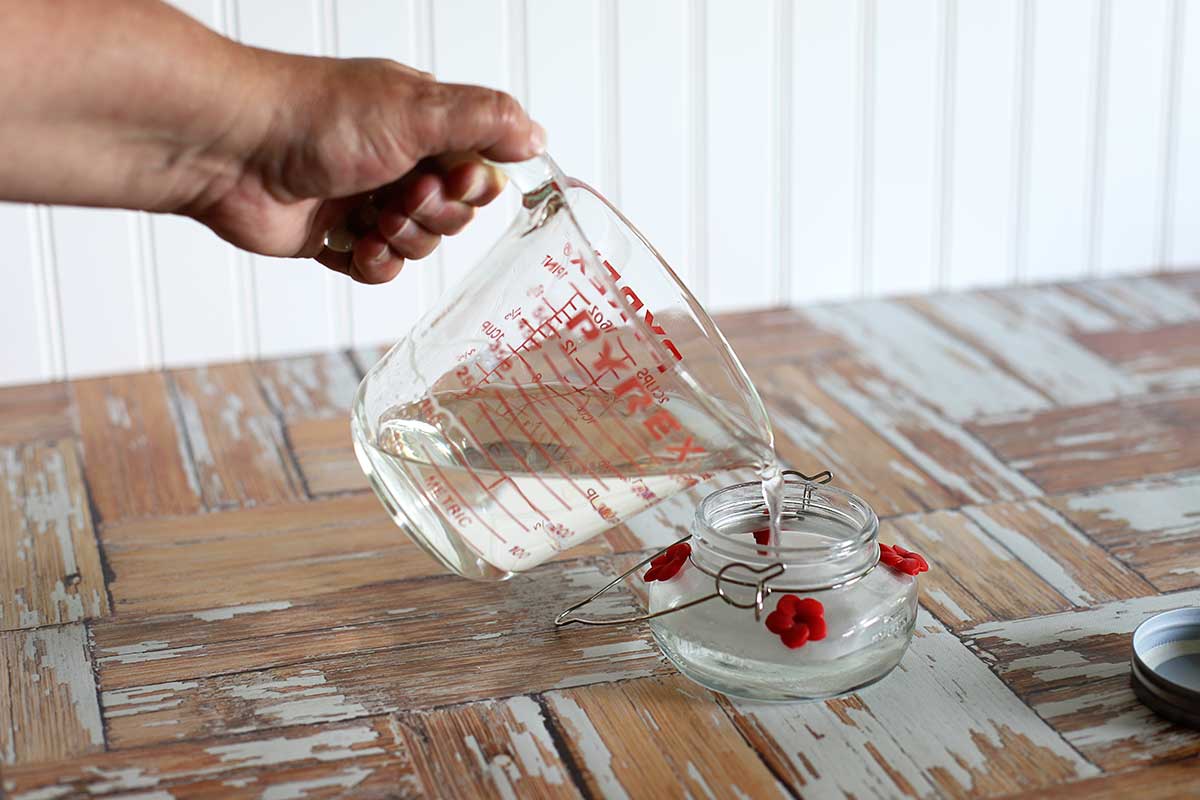 Any left-over sugar water can be stored in the refrigerator for up to 2 weeks.

The cost of a ½ gallon bottle of dye-free nectar on Amazon is $7.99-ish. The cost to make your own ½ gallons of nectar will be roughly, give or take a few cents, $1.45.
Why You Shouldn't Use Red Dye
Red dye and food coloring may be harmful to hummingbirds. Additionally, the red dye coloring is not necessary to attract hummingbirds as most feeders will incorporate the color red either into the feeding ports or some other portion of the feeder.

If you're interested in more in-depth thoughts on red dye, Journey North, an online migration tracking site, goes into more details on the dangers of red dye for our bird friends.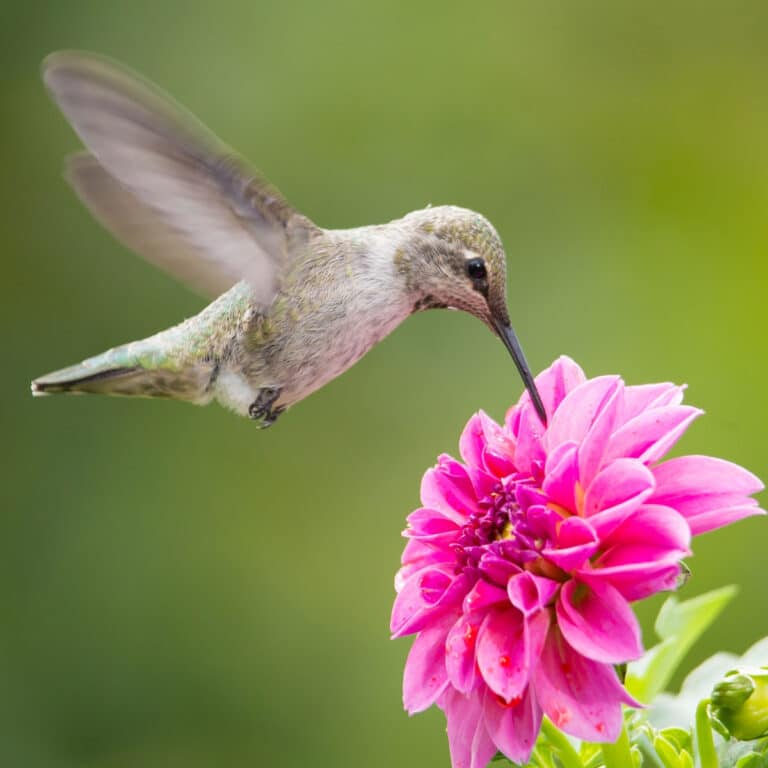 Homemade Hummingbird Nectar
This quick, easy and inexpensive hummingbird nectar recipe is a safe alternative to store bought hummingbird food.
Print
Pin
Rate
Ingredients
4

cups

boiling water

1

cup

refined white sugar

(regular table sugar)
Instructions
Mix sugar into boiling water until dissolved.

Allow sugar water to cool and fill feeder.

Hang your hummingbird feeder outside.
Notes
DO NOT add red dye or food coloring as this may harm the birds and is not necessary to attract the hummingbirds.
DO NOT substitute honey, corn syrup, raw sugar or confectionary sugar. Always start with regular table sugar (refined white sugar).
Extra sugar water can be stored in the refrigerator for up to 2 weeks.
Thoroughly clean feeders with soap and water before filling again to prevent growth of mold and bacteria.
You will always use 1 part sugar to 4 parts water. For instance, in my photos I am filling a very small mason jar hummingbird feeder, so I only used ¼ cup sugar to 1 cup water.
Maintaining A Hummingbird Feeder
There's a few things you can do to keep your hummingbird feeders safe for the birds.
Keep FRESH sugar water in the feeders. In hot summer months you want to change out the sugar water every other day. In cooler months once a week should be fine.
Thoroughly clean your feeder between fillings by flushing it with hot water. Avoid using soap as hummingbirds are sensitive to the taste of soap residue (and can supposedly taste it even if the feeders are meticulously rinsed afterwards).
Once a month do a deep cleaning of your feeders. Take your feeders apart as much as possibly (I love the kind where even the feeding ports and bee guards can be detached). Soak your feeders for one hour in a mixture of ¼ cup bleach in a gallon water. Then use a bottle brush to get into any nooks. Rinse thoroughly with water, air dry and refill your feeders.
Alternately you can use a mixture of 2 parts water and 1 part vinegar as a soak if you don't want to deal with bleach. Am I the only person who can't get within 2 feet of a bleach bottle without random bleach spots popping up on my t-shirt?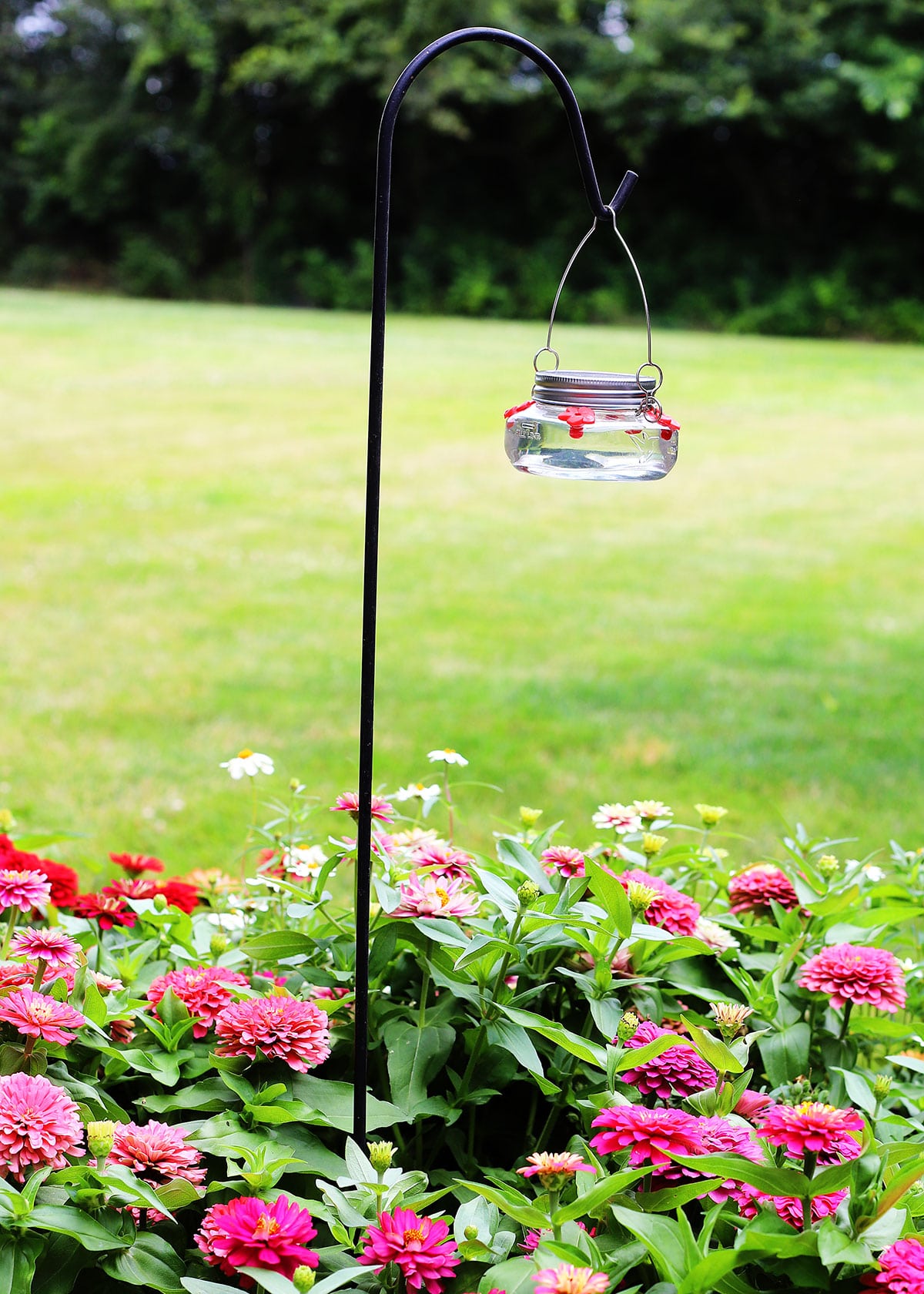 Best Hummingbird Feeders On Amazon
(This post contains some affiliate links for your convenience. You can read my full disclosure policy here.)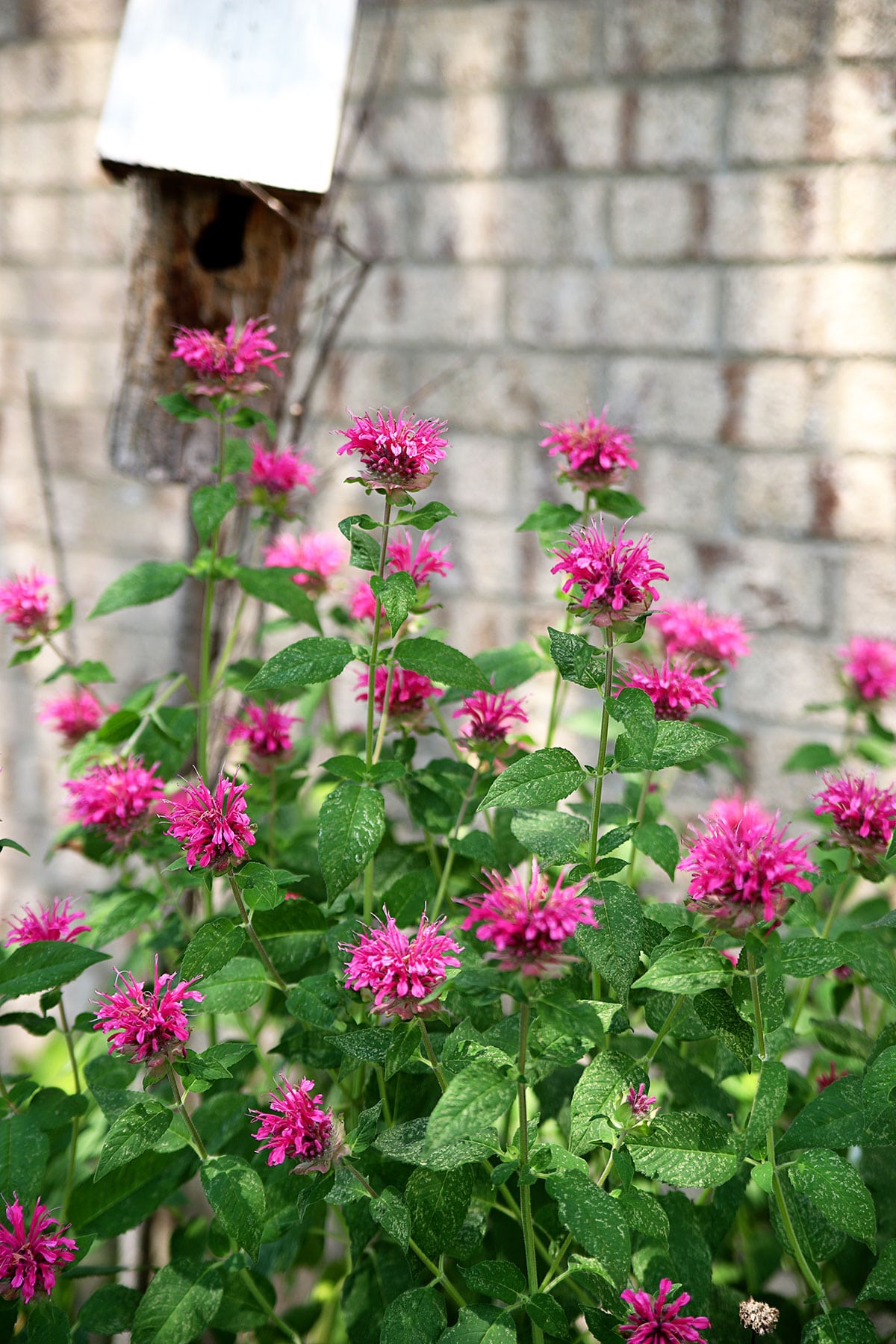 15 Plants That Attract Hummingbirds
If you want to attract lots of hummingbirds it's beneficial to not only give them access to your feeders, but also plant flowers they love. Hummingbirds like brightly colored flowers that produce a lot of nectar and have a high sugar content, such as:
honeysuckle
trumpet creeper
bleeding hearts
salvia
weigela
cardinal flower
zinnia
columbine
lupine
petunia
butterfly bush
foxglove
delphinium
verbena
Frequently Asked Questions
What is the ratio of sugar to water for hummingbird food?
No matter the quantity you are making, the ratio of sugar to water is always 1 part sugar to 4 parts water (for example, 1 cup sugar to 4 cups water).
Do I HAVE to boil the water for the hummingbirds?
It is always best to boil the water before adding the sugar to get rid of any impurities in the tap water. With that said, you don't absolutely positively have to, but it only takes a minute or two and is the best way to keep our hummingbirds safe and healthy.
What kind of sugar can I use for homemade hummingbird food?
Only use refined white sugar (regular table sugar). DO NOT use honey, corn syrup, raw sugar or confectionary sugar. For instance, confectionary sugar has corn starch added to it which is bad for the birds. And honey has naturally occurring bacteria and fungus in it that grows like crazy when mixed with water. Just stick to refined white sugar and you don't have to worry!
Can I use tap water?
Yes you can, just boil it first.
Can you make hummingbird food too sweet?
Yes you can! Too little sugar and the birds don't get the calories they need to survive. Too much sugar and you run the risk of harming their kidneys and liver (yes, hummingbirds have kidneys and livers).
Why don't hummingbirds get fat or sick from drinking all that sugar?
Their bodies are made differently from humans, so even though they have kidneys like humans, they do not get diabetes from all the sugar. Their bodies are specifically designed to process all that sugar efficiently.
Are glass hummingbird feeders better than plastic?
Glass feeders are easier to clean and seem to last MUCH longer than the plastic ones that tend to warp, crack and fade over time. In general, a plastic hummingbird feeder may last a season while a glass one can last for many years. I'm Team Glass all the way.
Should hummingbird feeders be in sun or shade?
Place your feeder in an area that gets morning sun and afternoon shade. Being visible in the sun part of the day make it easier for birds to find the feeder. But too much sun, especially full on afternoon sun, will make the nectar spoil quickly.

Try to find a spot close enough to house so you can see the hummingbirds, but far enough away that they will feel comfortable visiting the feeder. Being close to a bush or tree gives them a place to watch the feeder from as they are somewhat territorial and will want to keep an eye on "their" feeding spot when not actively drinking from it themselves.
Do you try to attract hummingbirds in your yard?
View the web story version of this article HERE.