African violets are one of my favorite flowering houseplants.
Why, you ask?
Out of all the fantastic houseplants out there, why the African violet?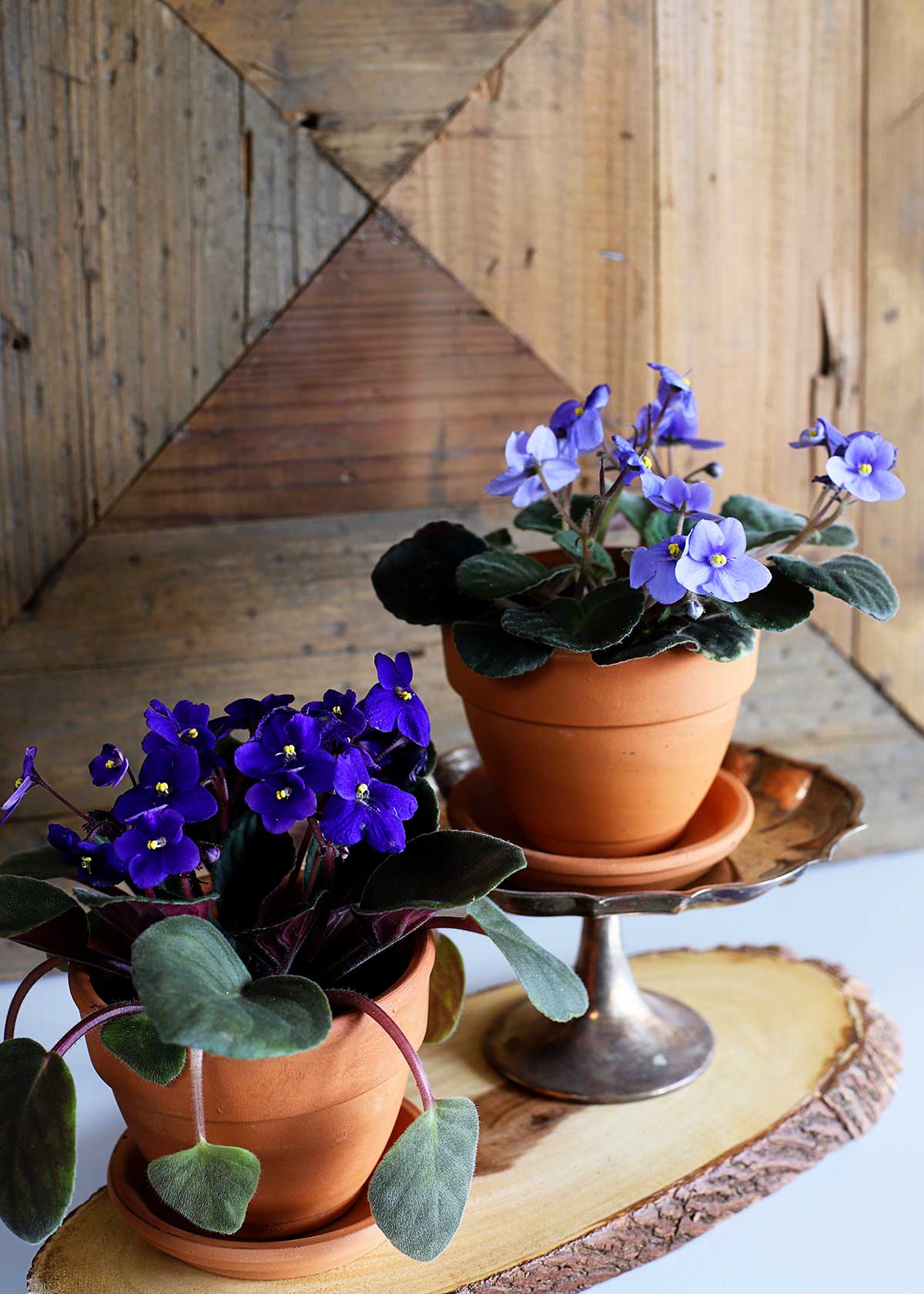 They are a compact plant that stays in a nice easily manageable mounded shape, so they don't grow all willy-nilly or outrageously huge and overtake the house (I'm talking to you Mr. Monstera plant).
They have beautiful flowers and come in a variety of colors from blues to purples to pinks and whites. Some have single blooms, some have double blooms, some have ruffly blooms. There is a bloom for everyone's taste.
They remind me of my grandma's house. But in a good way, not in a plastic covered sofa sort of way.
And best of all, they are fairly easy to grow if you just know a few key tips.
How To Care For African Violets
If you are new to African violets here are some basic tips for African violet care to get you going. And if you just haven't been successful with them in the past, these tips will get you back in the African violet's good graces.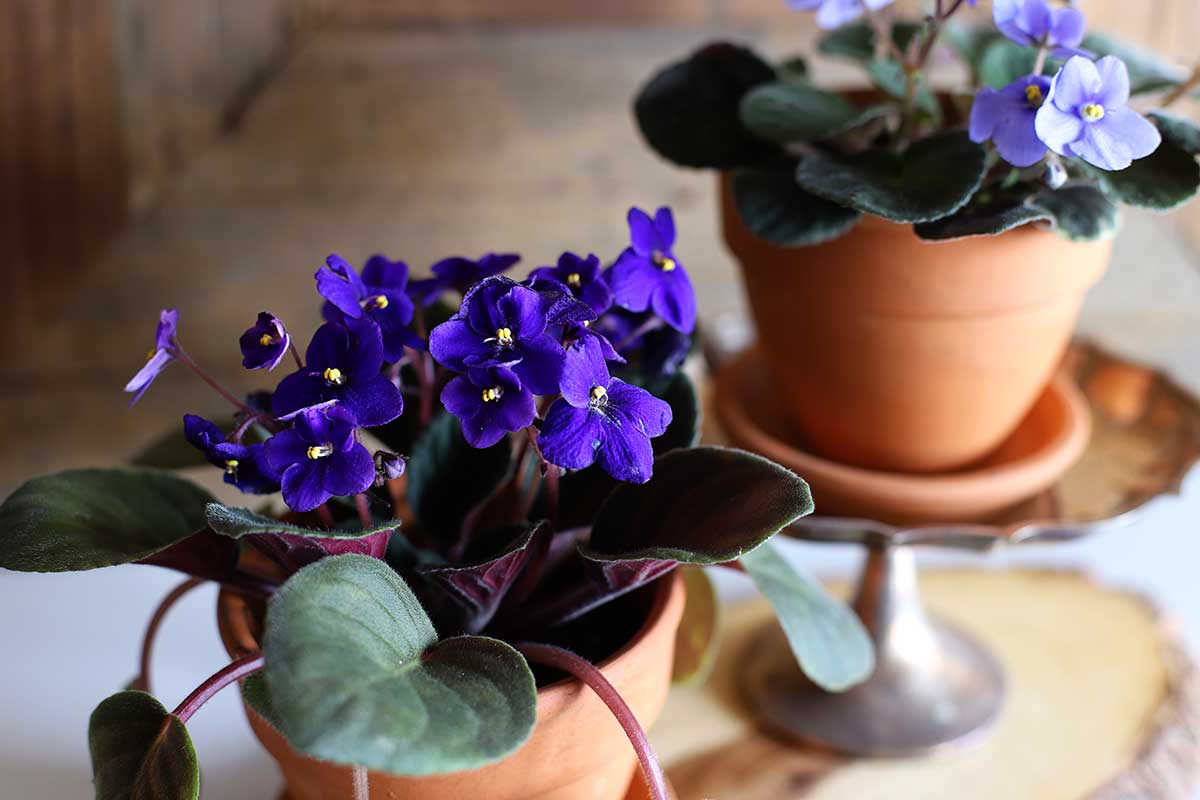 Buying African Violets
First of all, when buying a new African violet plant look for one with firm, healthy leaves and lots of healthy looking buds.
I am not an African violet snob and will buy them at the local grocery store, but only if they are FRESH to the store and are looking extra PERKY. Otherwise I prefer to buy them at my local garden center where I know they have been well cared by someone with knowledge of plants (rather than knowledge of pastrami).
Starting with a healthy African violet plant is much, much easier than trying to revive one on their last legs.
Repotting African Violets
I always repot my African violets as soon as I bring them home from the garden center or grocery store. The plastic nursery pots they are sold in at the stores are not optimum for long term use, so into new pots they go.
And then I repot them once a year to give them fresh airy soil. The previous soil would have become compacted over time.
In both these instances I am repotting them in the same size containers. African violets bloom better when slightly rootbound, so until they become too rootbound or start to get leggy I try to keep them in approximately the same size planter.
In general, the pot should be roughly ⅓ the size of the spread of the leaves.
Wait to move them up in planter size when they become too rootbound - you will see roots growing out of the hole in the bottom of the pot or poking up out of the soil on top when they are at this point.
African Violet Pots
I prefer to use terra-cotta pots for my African violets since terra cotta is breathable. And honestly, I love the look of an African violet in these simple pots.
You can use an African violet specific pot which self waters the plant if you prefer. In this case the planter comes in two parts. The plant is planted in the top portion with water put in the bottom portion.
It really is a personal preference though, both type of pots will work.
When picking out a pot, make sure it is slightly shallow though - roughly the same size in depth as in width. You do not want overly deep planters because the roots are shallow growing and in a tall planter you will end up with a plant with soggy soil at the bottom yet roots that haven't touched water.
(This post contains some affiliate links for your convenience. You can read my full disclosure policy here.)
African Violet Soil
When repotting, use an African violet specific soil such as Espoma's African Violet Potting Mix . They like airy, loose and fluffy soil and regular potting mix is too heavy for them.
A note about Miracle Grow African Violet Potting Soil which is commonly found in just about any grocery store or hardware store. It already has fertilizer added in to it, so if you use it you have to remember to be careful to not over-fertilize your plants by using your own fertilizer also. Some people like that they don't have to think about fertilizing, some people like to control their fertilizer usage more.
And you can always make your own. A common recipe for making your own African violet potting soil is to mix 1 cup peat moss + 1 cup vermiculite + 1 cup perlite. So if you want to DIY it, go for it!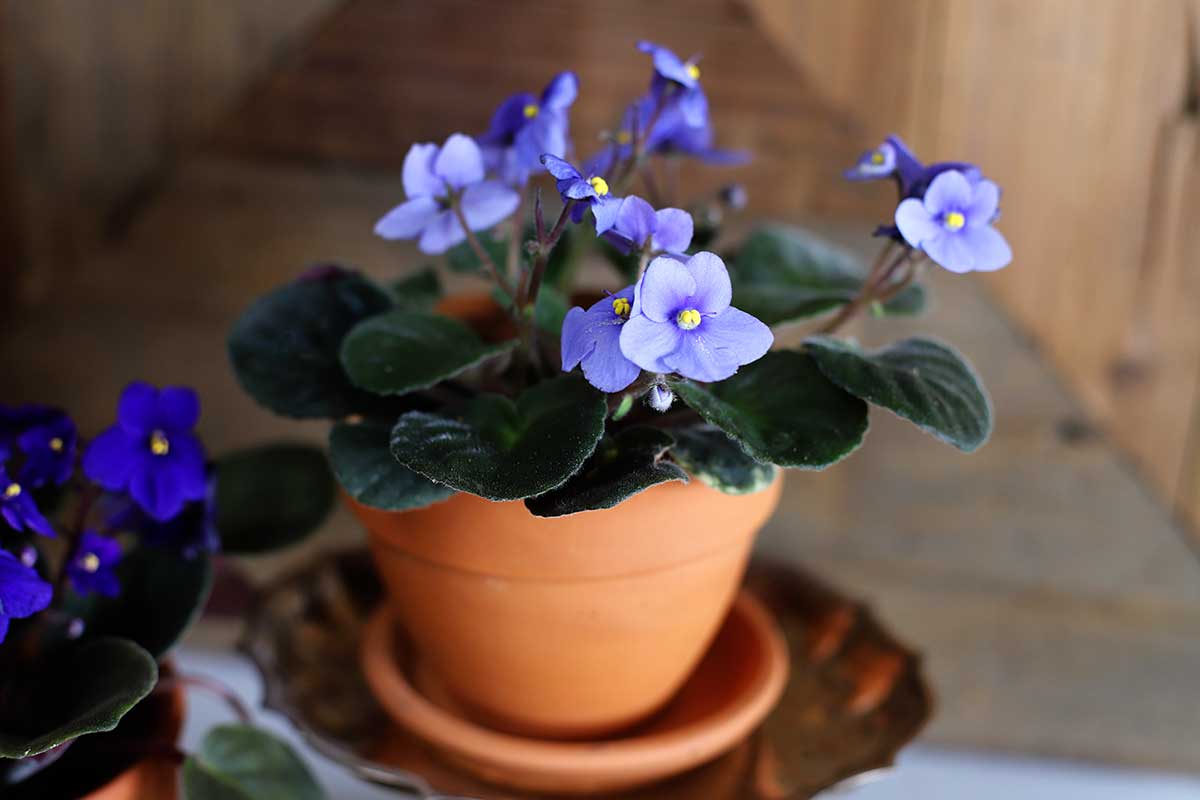 African Violet Fertilizer
Fertilize your African violets with an African violet specific fertilizer spring through fall. No need to fertilize in the winter months. I use Schultz African Violet Fertilizer, just because that is what my mom always used, but there are other brands out there. Follow directions on the package.
Do remember what I told you about the Miracle Grow potting soil though.
Watering African Violets
Let your African violets dry out slightly between waterings. I can usually just lift the pot and tell it needs water by the weight of the pot. Which might sound odd, but really the soil is so light that you can easily tell when it has the added weight of water in the soil.
Water from underneath with room temperature water. I fill the saucer or a shallow pan with water and allow them to drink up as much as they can from underneath for about an hour. Then toss out the extra water. They prefer moist, yet not soggy soil.
DO NOT let them constantly sit in water. They will become mushy and waterlogged and will die a fast miserable death.
African Violet Light
African violets prefer bright, indirect light such as an East or North facing window. Direct sunlight will burn the leaves. And they are notorious for not re-blooming without the correct lighting situation.
Rotate once a week to keep their uniform, rounded shape.
You can place them under a grow light in the winter months if you like. I have not found it necessary, but some people swear by them.
African Violet Temperature Preferences
They do best in 65 - 80 degree temperatures.
They need to be kept away from cold glass, so if you have them in a kitchen windowsill, pull them back a bit from the glass.
Propagating African Violets
If you are interested in a frugal way to produce a never ending supply of new African violet plants, Melissa from The Empress Of Dirt has a wonderful article on How To Grow African Violets From Leaf Cuttings including a video of the process.
I didn't want to make this article so long no one would read it, so pop on over to her site to learn how to propagate the right way (it is not hard at all)!
Are African Violets Poisonous To Cats
No, they are non-toxic to cats and dogs.
BUT, if your animal or child is prone to sticking plants and flowers into their mouth, I would keep these pretty flowers out of their reach. And I would still contact the local poison control center to just make sure the amount of plant they ate won't have another effect on them. Just because they aren't poisonous doesn't mean they won't upset their stomach.
Do you grow African violets? What is your favorite variety?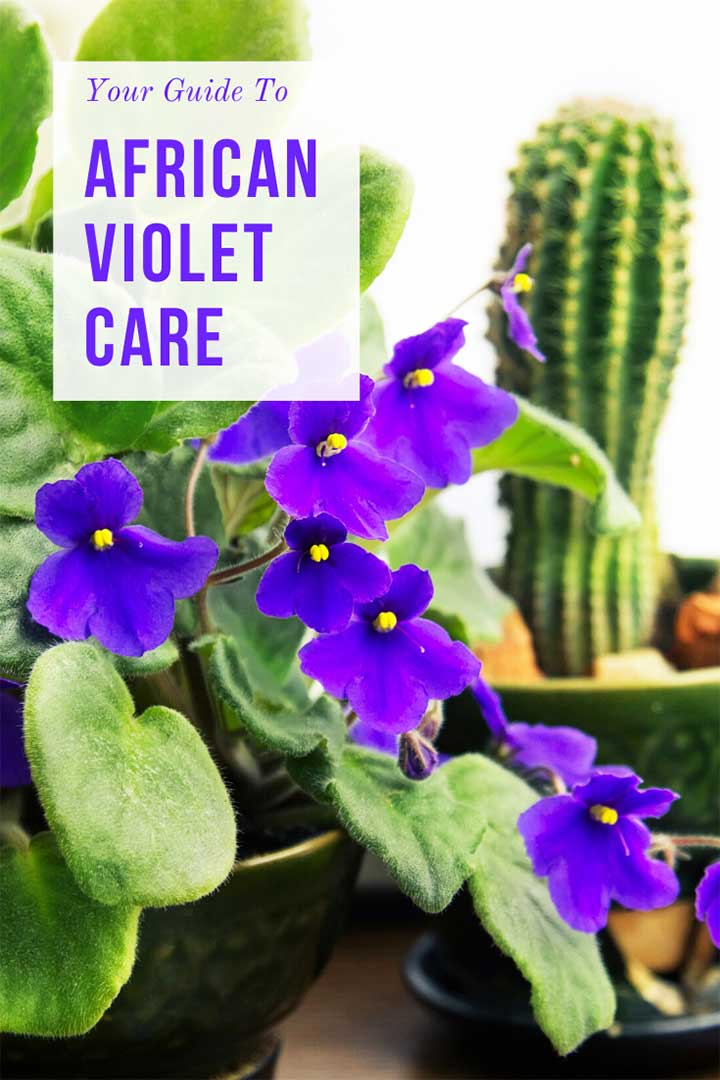 Check out the web story version of this article HERE.
Other Post You May Enjoy:
9 Easy To Care For Houseplants
How To Grow Peonies Your Neighbors Will Envy
5 Simple Tips For Growing Clematis